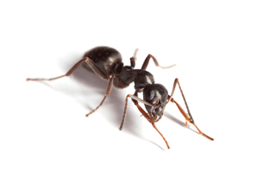 How Do Ants End Up Inside My House or Commercial Building?
Ants enter structures to find shelter from harsh weather or to find new sources of food or water. Ant infestations are most common during dry, hot summer months when ants are in search of water, so you are likely to find ants in sinks, dishwashers, showers and around toilets.
What Type of Ants Do I Have?
Argentine Ants
A prolific pest commonly found in Southern California, Argentine ants build non-competitive colonies.
Crazy Ants
Named for its erratic movements, the Crazy Ant is found in dry or moist environments, including trash, plants, rotted wood and soil.
Harvester Ants or "Red Ants"
A red-brown ant, the California Harvester is found in dry regions of Southern California. Harvester ants do not invade homes; they are found on playgrounds and lawn areas. Harvester ants usually make their nests in exposed, sandy soil with multiple entrances and give painful stings. Anaphylactic reactions have been reported from Harvester Ant stings. This means that Harvester Ants require immediate ant control.
Little Black Ants
At 1.5-2mm in length, Little Black Ants are scavengers, found wherever food is kept. We provide ant control services to eliminate Little Black Ants.
Odorous House Ants
Odorous House Ants are found in damp areas like pipes, sinks, dishwashers, showers and toilets. The Odorous House Ant, whose name comes from the strong smell it makes when crushed, have been known to avoid store-bought bait stations. This makes professional ant control treatment essential.
Red Imported Fire Ants
Common in Southern California, Red Imported Fire Ants construct earth mounds where they nest. Red Imported Fire Ants sting to defend their nests. Their venomous sting causes burning, fire-like sensations. Fire Ant stings can be especially dangerous for those with bee allergies, as they have been known to cause anaphylactic shock. For this reason, immediate ant control is necessary if you have Red Imported Fire Ants.
Ant Control Services
After identifying the source and type of ant infestation you have, one of our Knockout Pest Control technicians will apply an insecticidal barrier, reducing the ant population and giving you control over future invading ants.
For ultimate, year-round ant control, we offer monthly, bi-monthly and quarterly pest control maintenance plans. With quarterly ant control maintenance plans, if you run into an ant pest control issue between visits, a Knockout Pest Control technician will come to your home or business to address the problem at no cost to you.