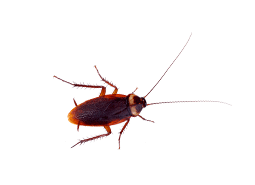 Cockroach Control
Cockroaches are most attracted to meat products, starchy foods, cereals, sweetened foods and other sugary substances. Cockroaches multiply quickly and spread through your home or office looking for food. Roaches are commonly found near hot water pipes, kitchen sinks (more so if the sinks are moist), in cracks and behind stoves and refrigerators. Because cockroaches can cause disease and health problems, it is important to seek out immediate cockroach elimination and to stay on top of cockroach pest control.
Types of Cockroaches
American Cockroach
Also known as Palmetto Bugs or Water Bugs, the American cockroach is the largest roach in the US at an average size of 2 inches long. The American cockroach is the only type of cockroach found in Southern California that can fly. American cockroaches are most commonly found in storm drainage systems, sewers and other places where you find rotting organic matter.
Brown-Banded Cockroach
Nicknamed "the furniture cockroach," the Brown-Banded Cockroach has dark bands of color on its body and wings and is most often found in furniture.
German Cockroaches
The most difficult for cockroach control, the German Cockroach is also the most common. Found in grocery stores, food processing plants, restaurants and shipping containers, the German Cockroach spreads to houses and apartments. Our cockroach pest control technicians most often find German Cockroaches near leaky pipes, drains, showers, toilets and sinks.
Oriental Cockroaches
Found by our cockroach elimination technicians in dark, damp places like sewers, crawlspaces and beneath debris and timber, garbage shoots and porch and wall voids, Oriental Cockroaches are black in color and about 1 inch long.
Control for Roaches Improves Health
Cockroach elimination keeps your family healthier. In addition to destroying food and staining surfaces, cockroaches spread germs and carry diseases. Cockroaches contaminate even more food than they consume by leaving lines of feces in the places they infest. Control for cockroaches is difficult because the health risks they pose are significant and cockroach nests are hard to access. Cockroaches enter homes and offices through small cracks, pipes and vents like many other household pests. Cockroaches also enter your space in cardboard boxes and grocery bags that come into your home.
The speed with which cockroaches spread, the multiple ways they can enter your home and the health risks that they pose mean that you need to get immediate pest control for cockroaches.
Cockroach Control
Our cockroach pest control technicians set up effective baiting systems and draw up strategic plans that include baiting and dusting, and precise spraying.
Cockroach control treatment includes application of an insect growth regulator, in addition to the baiting systems and follow-up treatments. Knockout Pest Control offers cockroach control guarantees on a case-by-case basis.
We emphasize to our cockroach control clients that they need to prepare thoroughly before we can perform pest control for cockroaches in their homes. Cleanliness, proper food storage and other habits help to improve cockroach control.