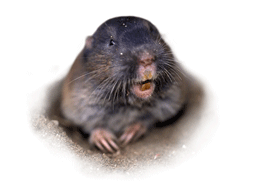 How Do I Know I Have a Gopher or Mole Pest Control Problem?
If you start to see holes in your lawn and damage to your garden, you might need mole and gopher control. Moles and gophers burrow underground, tear up gardens and destroy lawns. One gopher can destroy your entire garden in just a few days.
Gopher & Mole Control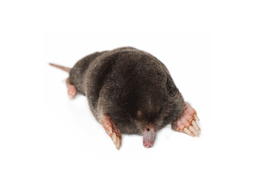 Gophers and moles cause extensive damage because they dig intricate tunnel systems under gardens and plant beds in search of insects and earthworms. You need reliable mole control from professionals to take back your healthy lawn. Yard mole control gets the moles out of your yard, leaving you to enjoy your safe, healthy space again.
Gopher & Mole Control Plans
At Knockout Pest Control moles are kept at bay by monthly and bi-monthly services to control mole and gopher populations. We offer monthly, bi-monthly and quarterly mole control maintenance services. Our technicians eliminate the gopher or mole infestation by locating the source of the problem and using baiting and removal techniques to remove the pests from your property. After the moles are removed, we perform maintenance services to protect your lawn from the moles' tunnel systems and any recurrence of infestation.