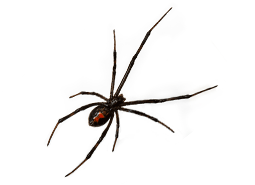 Spiders are pests that are commonly found in the home and in the garden. Our spider control technicians find spiders indoors in the corners of high ceilings, as well as outdoors under furniture or outdoor play equipment and in bushes and trees. Rest assured, most of the spiders that you find in and around your Southern California home are not lethal. However, spiders can be dangerous for you and for your family so spider control services and spider removal should not be delayed.
Types of Spiders
Knockout Pest Control technicians encounter multiple types of spiders when they perform spider extermination and spider control services.
Black Widow Spiders
Black Widow Spiders are poisonous spiders commonly found in Southern California. Glossy and black, these spiders remain close to the ground and are most often seen near the bases of buildings, stone masonry stacks and wood piles. Black Widow Spider bites are highly toxic, and potentially fatal, to the elderly and to children that weigh less than 60 pounds. It is easy for spider control technicians to spot a Black Widow spider web because the webs are irregularly shaped and arranged in a haphazard pattern.
Brown Widow Spiders
A close cousin to the Black Widow, the Brown Widow Spider is also commonly found in Southern California. Though the Brown Widow Spider is less aggressive than the Black Widow, it can be equally dangerous. A soft brown color with black stripes, the Brown Widow Spider hangs upside down from its web and has an hourglass figure on the abdomen, just like the Black Widow Spider.
Spider Removal
As a first steps for spider removal, Knockout Pest Control spider control services include de-webbing your house and the areas around your home where we find spider webs. We clean the eaves and knock down all of the spider webs we find on our first visit.
Spider Extermination
Spider control technicians eliminate spiders by spraying a low toxicity treatment to the exterior and interior of the home that to care of spider extermination and to prevent breeding and future spider infestations.
Spider Control
For lasting spider control and other pest control services, we offer a variety of pest control service packages, including monthly, bi-monthly and quarterly pest control protection packages.
Types of Pest Control Maintenance Programs:
         Monthly Pest Control
         Bi-Monthly Pest Control
         Quarterly Pest Control Services
With pest control maintenance plans from Knockout Pest Control, you get guaranteed, year round control. In the event that you experience an infestation included within your maintenance plan between scheduled visits, we come back to your property to eliminate the pest problem, free of charge for guaranteed control.