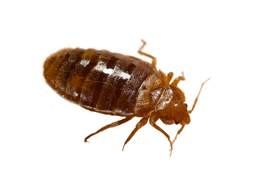 Bed Bug Pest Control & Bed Bug Extermination
A pervasive household pest, the bed bug takes up residence quickly in your home or office. Because they deliver painful bites to people, bed bugs require thorough, professional bed bug extermination by a bed bug exterminator like Knockout Pest Control.
In recent years as global travel has become more common, we have seen a resurgence of bedbugs throughout the US and here in Southern California. Bedbug infestations are not caused by poor hygiene or poverty, as some mistakenly believe. Understanding how bed bugs spread and where they can be found (houses, apartments, dorms, schools, public transportation, movie theaters and Laundromats) helps to make pest control for bed bugs easier.
Bed Bug Removal: Know How Bed Bugs Feed for Better Bed Bug Pest Control
To determine whether you need a bed bug exterminator, first make sure you know how to identify a bed bug in your home. At about 5mm, bed bugs are small, oval shaped, rusty red-brown bugs that hide in crevices around your home and come out of hiding to feed. Bed bugs' mouths are like syringes and they give painful bites.
Signs I Need Bed Bug Removal
As bed bug exterminators, we know the signs. Make sure you do, too. If you see small blood stains on your sheets and if you are waking up with bites or bite clusters on your body, you have bedbugs in your home and you need immediate bed bug extermination.
Pest Control for Bed Bugs
If you think that you need bed bug removal in your home or office, contact us immediately and we will send a technician to you. On the first visit, our bed bug extermination technicians inspect your property and evaluate the level of bed bug infestation. As a next step, our bed bug exterminator recommends either fumigation or bed bug pest control treatment.
For bed bug infestations, after initial bed bug removal, our technician follows up to make sure the bed bug pest control job is complete. Our bed bug pest control services are evaluated on a case-by-case basis to determine the type of extermination and the number of follow ups required to keep your space bed bug free.